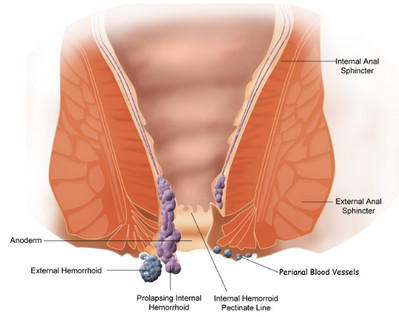 What is Anal Itching?
Also known as pruritus ani, anusitis, or itchy bottom [1], this refers to the inflammation of the skin located at the exit of rectum known as the anus. It is usually characterized with having the urge to scratch the anal area.
Naturally, the itching is caused by the natural reaction to the chemicals in the stool, but there are times when it means that there may be a presence of inflammation. As the patient with an itchy anus condition experiences intense anal itching, it results to direct trauma to the area. Then, as it becomes more intense, it results in intolerable discomfort which is in the form of burning and soreness. [2]
Picture 1: Itchy Anus
Source: healthtap.com
What are the Rectum and Anus?
The rectum is a portion of the digestive tract that starts from the end of the large intestine and ends at the anus. Its function is to hold the bowel movement when there is an urge for defecation.
Meanwhile, anus is the opening located at the end part of the gantrointestinal tract where the stool leaves the body. It has a continued lining of external skin and a muscular ring (anal sphincter) which is responsible for keeping the anus closed until defecation. [3]
Picture 2: Illustration of  Rectum and Anus
Source: webmd.com
What Causes an Itchy Anus?
1. Hygiene
Improper hygiene after defecating: Pieces of stool may be trapped in the skin folds of the anus without proper cleaning of the area. This may lead to itching and discomfort.
Extremes in hygiene:  Vigorous cleansing of the anus like using scented tissue, sanitary wipes and strong soaps can lead to irritation to dryness of skin. This may also cause allergic reaction. Also, repeated cleaning or showering may cause itching when natural oils in anus are removed.
Use of ointments [4, 5]
2. Diet
Consuming certain types of food may contribute to the itching of the anus. The irritation may result from the food being digested up to the time that it leaves the body through defecation.
Spicy foods or hot sauces: Some people experience irritation of the anal area after consuming spicy foods or hot sauces.
Itching may also result from the friction as the stool cannot pass smoothly through the anus.
Foods like tomatoes, popcorn, chocolate, nuts, and alcoholic beverage
Food or water consumption which may cause diarrhea [1]
3. Medicines
Antibiotics which may cause diarrhea or constipation.
Steroids: This drug can cause immunosuppresion or weakening of the immune system leading to vulnerability to different infections such as skin infections.
Drugs used to treat hemorrhoids
Large amounts of vitamin C
Excessive use of Laxatives [1, 6, 7]
4. Skin condition
Skin type: If the skin surrounding the anal area is dry, there is a high chance that it will be irritated easily.
Moisture of the skin: On the other hand, high levels of moisture in anal area can also cause itchiness. This can be influenced by factors such as allergies, diarrheas, fecal incontinence, excessive sweating, and lack of means to clean the body.
Skin diseases: Various skin diseases can lead to anal itchiness and irritation. Examples of these diseases are psoriasis, eczema, seborrhoeic dermatitis, and lichen sclerosus.
Allergic or irritant dermatitis: This refers to skin inflammation. This occurs when there is excessive sweating and moisture in the anal area, over-cleaning of the anus, and use of certain chemicals. [1, 6]
5. Infections
Thrush and Fungal Infections: The germs causing these infection best lives in moist, warm, and airless areas. The anus is just the perfect example of an environment where they grow.
Yeast infections: This occurs generally in women. It particularly affects the vaginal area, and may later on spread to the anus. This causes intense irritation.
Sexually Transmitted Infections (STIs) or Sexually Transmitted Diseases (STDs): Causes both genital and anal itching. [1, 6]
6. Parasites
Anal itching caused by parasites is most common in tropical countries or regions.
Threadworms: This usually occurs to children. In UK, 4 out of 10 have threadworms at some stage. Threadworms live in the intestinal tract and produce their eggs in the anus. This is why itching happens which is usually at night. [1, 6]
Picture 3: Threadworms
Source: std.sagepub.com
7. Tumors/Cancers
Anal tumors: Though this occurs rarely, itching of the anus may occur in patients with this condition.
Rectal, prostate, skin cancers
Cancer treatment: This includes radiation therapy and surgery focusing at the area of the rectum or pelvis which may cause skin irritation or skin burn. [7, 8]
8. Digestive Problems
Hemorrhoids: This is a condition wherein there is an inflammation of the veins around the anus or rectum. This can occur at the inside and above inside of anus, as well as under the skin of anus. Usually, people with hemorrhoids experience anal itching.
Picture 4: Illustration of what occurs in Hemorroids
Source: Wikipedia.org
Diarrhea/fecal incontinence: Another contributing factor in anal itching is repeated diarrhea and fecal incontinence.
Liver cirrhosis, lymphoma, crohn's disease, ulcerative colitis [1, 7, 8]
9. Structural Deformities
Anal fissure: This is described as a small crack in the skin at the anal area. It can be painful and itchy. [6]
10. Idiopathic pruritus ani (unknown cause)
For other patients, it may be caused by depression. The association between depression and anal or rectal itching is still remains a complete mystery. [6]
What are the symptoms of itchy rectum and anus?
The symptoms of itchy rectum and anus can be easily understood. From the term itself, it refers to the itchiness of the rectum, anus, and the skin around the anal area. A patient with this condition usually manifests:
Intolerable itching
Burning
Soreness
Pain (for some patients)  [1]
Picture 5: A picture of itchy anus
Source: proctocure.com
What triggers or exacerbates itchy rectum and anus?
Heat: Usually anal itching occurs in tropical regions or countries
Psychological: Anxiety and stress
Moisture
Incontinence: Fecal and Urinary incontinence can increase the moisture in the anal area which can cause itching.
Fabric: clothes, bed linen (wool) [1]
When to seek medical attention?
When anal itching is experienced, observe for the presence of lumps, bleeding, discharge, or fever.
For children who are having sleeping problems due to intense itching, this may be caused by pinworms. [9]
How can it be diagnosed?
1. Medical History
In order for the doctor to have an in-depth look to the possible cause of anal itching, the doctor will interview the patient to get the medical history. Questions about what products are used on the anus such as creams, powders, and soaps. Also, questions regarding diet may be asked. How long the itching last, when it occurs, or when it worsens. [1]
2. Referral to specialist
If the cause cannot be determined in the medical history interview of the patient. A referral to a specialists such as dermatologist (skin specialist) or rectal and anal problem doctor (proctologist) is done for further evaluation. [8]
3. Rectal exam
Some doctors perform this exam to determine the cause of the problem and its possible solution [8].
Picture 6: How Rectal Exam is done
Source: webmd.com
4. Proctoscopy or colonoscopy
This is a procedure which can provide an imaging of the digestive tract [8].
Picture 7: How Colonoscopy is performed
Source: randuhuntcpa.blogspot.com
Treatment Methods for Itchy Rectum and Anus
Anal itching is mostly easy to be relieved with treatment. However, this doesn't give the guarantee that it will not occur again in the future. The treatment of this condition is based on the cause of the itching. The treatment methods include:
1. Hygiene
Cleanliness and dryness: It is a must to keep the area of the anus clean and dry. After defecation, make sure that the anus is washed and dried thoroughly.
Carefulness: When washing the anus and the skin surrounding it, avoid the use of strong and scented soap. Use a mild and unscented one. Make sure that it is rinsed properly. Then, wen drying, avoid vigorous rubbing to avoid irritation. Another alternative is using the hair dryer set on low heat or pat the area with dry pad.
During travels: Use wet toilet tissues to wipe the anal area.
Prevent moisture caused by sweat: Remember to put a cotton tissue in the underwear. This should absorb the moisture and prevent irritation.
2. Diet
There are certain foods that exacerbate anal itching. For those who noticed anal itching shortly after eating a particular kind of food, try to lessen consuming it. Here is a list of foods that exacerbate anal itching:
Coffee, Chocolate
Citrus fruits
Nuts
Dairy Products
Tomatoes
Spicy food or Hot Sauce
Alcoholic or carbonated beverages
3. Medications
Most doctors prescribe medications to relieve symptoms. Below are the medication used:
Corticosteroids: This is used to treat the inflammation around the anal area. It helps to relieve the tenderness and itchiness of the area. Usually, it is prescribed less than 7 days. Report any untoward reactions if there are any.
Antihistamine: This medication addresses the allergic reaction. Thus, it relieves itchiness of the anal area. It is advised to be taken at night to aid in sleeping.
Creams or ointments
Treatment based on the underlying cause: If the anal itching has been found to have an underlying cause, the doctor will address it first. When the underlying cause is treated effectively, relief from anal itching can also be obtained.  [1]
Prevention of Itchy Rectum and Anus
1. Cleanse gently. Dry thoroughly.
After bowel movements, remember to wash the anal area properly. Avoid using scented and strong soaps. Use wet washcloth or toilet paper for cleansing the area if away from home. Also, don't wash it vigorously.
When done with washing, pat dry the area with gentleness. Use toilet paper or hair drying in low heat.
2. Avoid scratching
Scratching just exacerbates anal itching. It can lead to further irritation and inflammation. A home remedy for this is using a cold compress or lukewarm water.
3. Choose appropriate clothing
To keep the area surrounding the anus dry, use cotton underwear and loose clothing.
Avoid using pantyhose and other garments which are tight.
4. Avoid irritants
scented soaps, bubble baths, genital deodorants
beverages like coffee, cola, alcoholic drinks
excessive laxative use
5. Increase fiber in the diet
This is done to have softer and frequent bowel movements. [8]
Points to Consider
Having an itchy rectum and anus is a common problem which can be annoying when it's not treated immediately. Though this is the case, this is totally preventable. The easy ways on how prevent it involves proper hygiene as well as right diet.
For those who have this condition, chances of the condition being relieved after treatment, is high. Also, this condition can reoccur to people who have a history of anal itching.
References:
http://www.medicalnewstoday.com/articles/168728.php
http://www.medicinenet.com/anal_itching/article.htm
http://www.merckmanuals.com/home/digestive_disorders/biology_of_the_digestive_system/rectu_and_anus.html
http://www.healthlinkbc.ca/kb/content/symptom/rectl.html
http://www.merckmanuals.com/home/digestive_disorders/anal_and_rectal_disorders/anal_itching.html
http://www.patient.co.uk/health/pruritus-ani-itchy-bottom
http://www.webmd.com/digestive-disorders/tc/rectal-problems-topic-overview
http://www.mayoclinic.com/health/anal-itching/DS00453/DSECTION=causes
http://www.emedicinehealth.com/anal_itching/article_em.htm#anal_itching_overview